50% More Fragrance Than Any Other Candle!
Fill Your Home With Soothing, Healthy & Refreshing Fragrances With These Spring Top Sellers
Pure Integrity's signature innovative fragrance technology creates richly fragrant, long-lasting candles from all natural soy wax.
Embrace a clean, even burn with wicks that use every drop of wax in the jar, without the sooty residue!
Pure Integrity Candles Out-Scent YANKEE CANDLES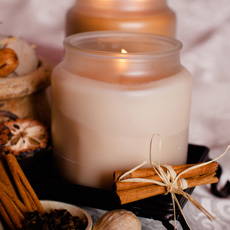 There is no question in my opinion that Pure Integrity Candles, are the best candles you can purchase today. They are clean burning, with very little or no soot and better yet, no toxic emissions.
Their candles have much stronger and realistic scent than any Yankee Candle I have ever owned, including Yankee's new "YC" product line, and their paraffin/soy line. Their scents are so realistic you will swear they actually have the fruit, flower or dessert in the candle!
My favorites are your Orange Vanilla Candles, Lemongrass Sage Candles, and Vanilla Candles
- By Frances Kilian Spokane, Washington
Fill Room Upon Room With Your Favorite Fragrance Today!
Quick & Secure ordering. Fast Delivery & Free Shipping on all orders over $100.00 & $5.00 Flat Rate Shipping on Orders Over $59.00