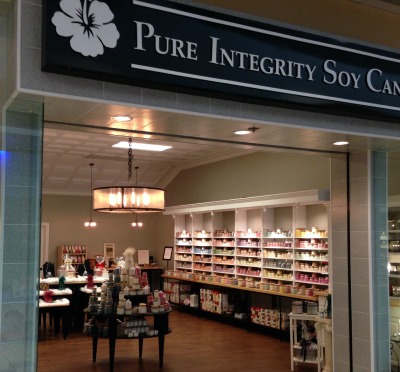 Soy Candle Wholesale Program With Phenomenal Results!
Pure Integrity Soy Candles has the most lucrative soy candle wholesale program anywhere! Why? Because customers love how our candles smell sooooooooo good and return for more and more candles!It's the natural reaction to an outstanding product.
So, how do we make soy candles that smell soooooo good?
Our "Exclusive Fragrances" are healthy when burned and the best part, of course is how they fill room upon room. The scents offered in our soy candle wholesale program are so strong, so realistic; they will knock your socks off.
Our "7 step Pouring Process" enables our wax to absorb more fragrance than what has formerly been possible in the industry. We equally distribute our strong fragrances top to bottom!
Our "Unique Soy Wax Formulation" produces healthy, natural candles that burn petro- soot and toxin free.
Our "proper sized wicks" create beautifully, even & long, burning soy candles.
Your Customers Will Absolutely Love our Soy Candles!
Simply put, once the word is out and a couple of people have burned our Soy Candles, word of mouth takes over! That is the best part of our soy candle wholesale program! People go crazy about our Soy Candles! Actually most of our wholesale accounts were created by word of mouth. Their customers came into their store and couldn't help but rave about our Soy Candles and the owners then called us inquiring if we had a soy candle wholesale program. Outstanding soy candles create outstanding demand. The same thing will happen for you. Word of mouth is a powerful tool and you will see it at work at its finest with Pure Integrity Soy Candles. When customers walk into your retail store they will be drawn to the soft pastel colors housed in our elegant frosted jars with real maple top, just as they do in our retail stores. They simply lift the lid and they are absolutely amazed at the strong, realistic scents! I never get tired of watching their reactions in our stores as they smell our soy candles; it's like watching kids in a candy store for the first time. It's so much fun!
Let's Get Started!
You are going to just love our Soy Candles! Our soy candle wholesale program will enhance your retail store's selection and most importantly bring in more profit for you! :) Fill out the form below and if you are approved we will send you an email of our soy candle wholesale program packages. We look forward to hearing from you. Have a blessed day! :)
Fill room upon room with your favorite fragrance today!
Quick & Secure ordering. Fast Delivery & Free Shipping on all orders over $100.00 & $5.00 Flat Rate Shipping on Orders Over $59.00