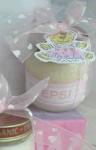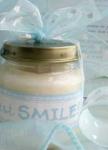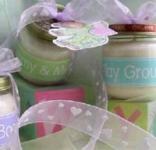 As you can see our baby shower candles are wrapped in purple organza heart ribbon, with a pastel green ,blue, and purple print sticker.
Each sticker has a different saying such as, Mommy & Me, Play Group, Peek a Boo, At The Park, Nap Time, and Patty Cake.
On the very top is what is called a die cut in the form of a teddy bear or blue bottle. It is here where you will see the kind words Thank you and on the back you can place your numbers for a drawing, if you are having one.
Minimum Order is 20
Reviews