Candle Scents
Did you stop making blueberry candles? Why?
- Angie wargo
Sparta, TN
---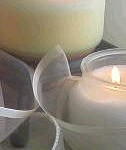 All candle scents
We order quite a few candles from you each time we order and it would take me more time than I have to review all of them. We like all the candle scents we have purchased. They are placed all around the house, in just about every room. The scents are wonderful and I have recommended Pure Integrity Candles to many, many others.
The candles have made great gifts and the people receiving them love em too. There hasn't been a scent that we ordered that we didn't like. We will keep coming back for more when our supply dwindles. Keep em coming.
- Shirley
Graniteville, SC
---