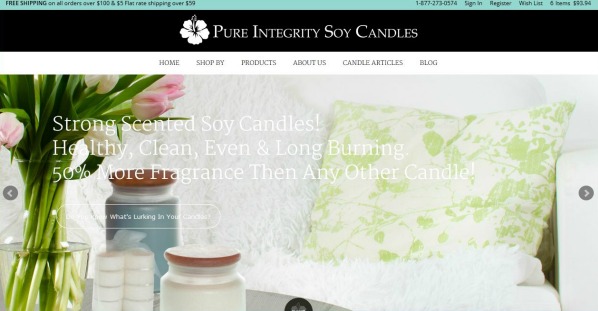 The team at Pure Integrity has been very busy of late, redesigning our website: A big thanks to Lauren Hills of Lauren Hills Design and the amazing crew over at Lexicon Hosting. This project could not have been executed in such excellence without their expertise & ongoing support.
The site has been redesigned to offer a more visual, organized and sharable introduction to Pure Integrity Soy Candles – one that looks as good on your laptop screen as it does on your phone. There's more storytelling through images highlighting the vision and inspiration behind each of our fragrances. You will get to know more about us, from behind-the-scenes shots of us making candles, even a new video 'tour' of what we do in our candle studio, reviews, testimonials and a question and answer section. We are sure you'll agree the new design helps bring the essence of our company and products to life.
It is our hope that you take part in our new blog by reading, commenting and asking any questions you might have. We hope that you find our new article section about candles and healthy living a blessing to your life.
Check out some of the great new areas of our site:
What is Different:
Where To Find Our Monthly 20% Off Candle Promotion – Our candle promotion can be found in two places. On the home page on the second slider you will see the 2 chosen 20% off candles. You will also see them displayed at the bottom of every page in either a blue or grey section.
Where to Find Our Monthly Shipping Special – Our monthly shipping special will be found in two places. At the top of every page above our logo you will see a blue banner listing the current shipping special. You can also view the shipping special at the bottom of each page in either a blue or grey section.
Adding Candles To Cart – Our add to cart process in slightly different. After you add candles to your cart you will no longer be brought to the cart screen, instead your cart will just be updated automatically for you at the top right hand side of your screen.
Over the coming weeks and months, we will be adding new candle articles to our blog, sending out our newsletter as well as answering your candle questions on our blog. We hope we can connect with you in a greater way, so you can learn more about us and experience the best scented candles available today!
Would you take a moment and tell us what you like about the new site design?
About Author
---
---