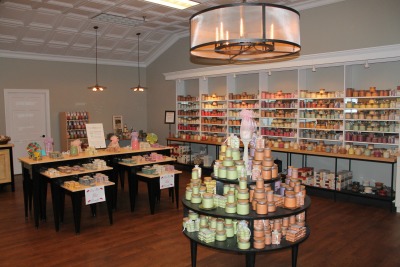 Most Profitable Candle Fundraiser Around!
Our Candle Fundraisers have been known to be the top money makers for organizations all over the United States. Pure Integrity Soy Candle fundraiser will provide an outstanding way for your organization to raise a substantial amount of money!
Roswell Park Cancer Institute does so well, they use us year after year. They told us they never anticipated the response they get from our Soy Candles! I'm sure you have read all about how our Soy Candles fill room upon room with the most beautiful, strong fragrances. In case you have not, click here to learn why our Soy Candles are the best scented candle around!
Once people smell our Soy Candles, they are absolutely amazed at how beautifully strong and realistic our scents are. Now that is simply smelling them in the jar, imagine what happens when they actually burn it! You might want to read our scented candle reviews from our customers. All it takes is one smell! Once people smell our Soy Candles they will be ready to purchase, either because they have already experienced our strong scented candles or because they are so impressed by the authentic fragrances they just couldn't resist! Pure Integrity Soy Candles are quickly becoming known as the best scented candle around locally and across the United States and in Europe. Just read all the reviews on various websites online in a google search.
Pure Integrity Soy Candle Facility
Our facility allows us to handle any size candle order, small to large. Our candle fundraiser can be used anywhere in the country. For those of you who prefer not to run the typical candle fundraiser, you can set up a store in your school or organization and display our soy candles and take orders from there.
Pure Integrity Soy Candle Fund-raiser Plan
Our fundraiser plan works with 3 easy steps:
Your participants collect all monies at the time the orders are taken.
The **Group Leader totals the amount of candles needed and contacts Pure Integrity Candles with the order information.
Send your order along with payment to Pure Integrity Candles.
Once the order and payment has been received, we fill the order and ship it to you!
What's Included In Our Fundraiser Plan
Our Candle Fundraiser provides all the sales materials such as sales log sheets and brochures. The forms come ready to use, as we like to keep our fund-raiser as easy for you as possible.
To Ensure Success Of Your Candle Fundraiser
In addition to the brochure, we suggest that you include information concerning your fundraising effort. This ensures sellers and parents understand when the sale starts, when the sale ends, when the order forms and money need to be turned back in to leader, incentives and delivery date and time for pick up. The more your supporters know about your organization and the more comfortable they will feel ordering.
The best advice is for your organization to set a profit goal. (How much money do you need?) Then break it down into smaller attainable mini goals. Too many organizations never know how much money they need and then hope for the best.
A plan of action will make your fundraiser a success. Let each seller know how many candles he/she needs to sell to reach the Goal and then reward them for reaching it.
Receiving Your Soy Candles
When you have placed your order you will be given an Estimated Date of Delivery. This date is usually 2-3 weeks after the order is finalized. You will then receive your candles via UPS ground.
Fill room upon room with your favorite fragrance today!
Quick & Secure ordering. Fast Delivery & Free Shipping on all orders over $100.00 & $5.00 Flat Rate Shipping on Orders Over $59.00