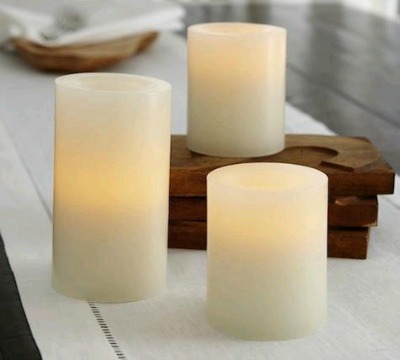 As Co-owner and Co-creator of Pure Integrity Soy Candles, I'm partial to candles with a real flame but, battery operated pillar candles or commonly called LED pillar candles are a pretty neat invention. In certain circumstances, I can see myself using these for sure. Battery operated pillar candles have really improved themselves dramatically over the years, as far as looking authentic. Wait till you read below about what else these candles can do!!!
These pillar candles run on batteries. There is no flame. Some outer shells of these newer candles have been created with a thick, molded plastic. There are other pillar candles, that have been manufactured out of real wax. Personally, I would rather go for the ones with the real wax shell. It looks more natural and authentic to me. But, the synthetic wax shells can do some pretty cool things. So, it's definitely a toss up between the two!

Some of the battery pillar candles also come with built in timers or with a remote control to help start and stop the piece from illuminating light. How cool!! They are the perfect pillar candles to place in outdoor luminaries as they will not go out nor will they start the bag on fire. I can see these pillars being a perfect solution to outdoor parties, weddings or ceremonies.

Many of these battery operated pillar candles are created to be weatherproof and can withstand the outdoor elements. I'm sure these are made of a synthetic outer wax shell for sure! I have seen these types of pillar candles used to illuminate pathways, as decorative lighting in gardens and flower beds and they look so beautiful.


Here are some ways people use battery operated candles
place gallery of photos here ..... .
Stores That sell battery operated pillar candles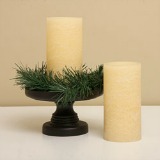 Overstock sells a lovely array of pillar candles and you can read reviews on their site.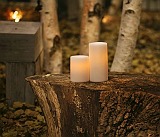 Candle Impressions has a huge selection of battery operated pillar candles and a beautiful candle gallery of pictures. The battery operated pillars will elegantly enhance your decor.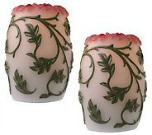 QVC has to have the biggest selection, widest variety and most elegant battery operated pillar candles I have ever seen. And, of course they have customer reviews to help you decide which one of these beautiful pillar candles to choose.
Here are some additional online stores that sell battery operated pillar candles
Lamp Lust