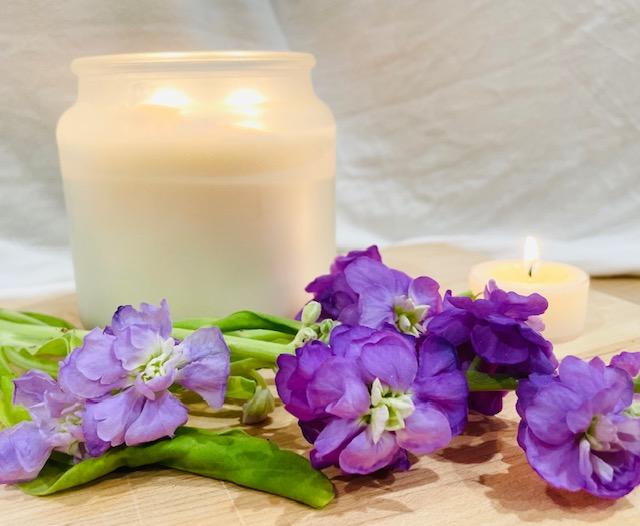 Looking for a way to invigorate and refresh your indoor space with a natural, authentic and pleasant scent? We have a great line up of scented candles for you! Whether you're looking for floral scents such as California Poppy, Lilly of the Valley, or something more lush and musky such as our Vanilla candles, Tobacco, or Warm Patchouli candles – we've got the perfect candle for you! Our highly scented candles provide the ideal aromas to make your home more inviting and enjoyable. Not only are our candles scented strong & last long but you can feel good about burning a healthier candle made from 100% soy wax with no parabens, phthalate or petroleum in our fragrances. And as a bonus the jars our candles come in – Well, just beautiful. Our candles are housed in a thick gauge glass for your safety and a minimalist, label free elegant frosted glass jar with real authentic maple top perfect to gift straight away.
Let's get into it, first up is one my personal favorites, our Lavender Fields Candle.
Ever calming, fresh and tranquil Lavender Fields Candles
Lavender Fields scented candles are perfect for creating a feeling of calm and tranquility in any room. The subtly sweet scent of lavender is known to help soothe the soul while relieving stress. Any of our soy wax candles that you order online come with a couple of free tealights as a thank you and a great way for you to try out a new scents. Lets us know in the comments a couple scents you would like to try. A small bathroom with the door shut would be just perfect to burn a tealight in.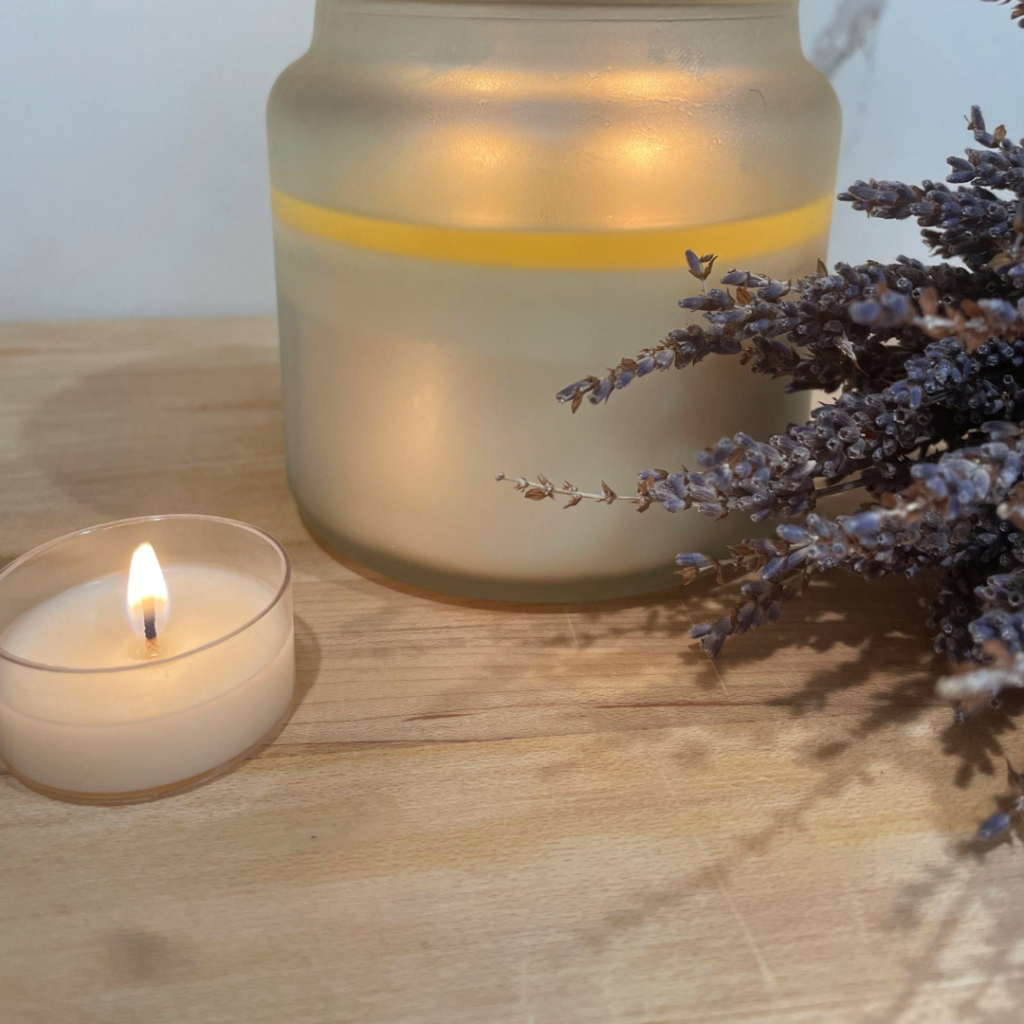 Jeffrey Is Awesome, And So Is Lavender Fields!
By Sarah Gabrielson
I have purchased many of these candles many, many times, and lavender fields is in my top three choices and favorites! Im the goofball who ordered on Christmas and not remembering that these good folks are in Buffalo, with the recent snowstorm that hurt and killed good people out there. Anyways, Jeffrey gave me a call himself, and what a truly nice man to speak with! It was an honor and a privilege to speak to him, and to be a customer that took enough priority that he would go out of his way to call and touch base on my order. Thank you so much! Now back to the candle! Yes, this is a really solid lavender candle, and I highly recommend it for anyone in the market for a strong scent. Lavender fields is an excellent choice if you enjoy aromatherapy especially. It has an excellent throw, and truly a great scent without causing me headaches! (None of these candles cause headaches, actually.) another reason to be a repeat customer, among many others. Thank you so much for making candles!
Rejuvenating and invigorating Zesty Lemongrass Clary Sage Candles
Get energized and refreshed with the rejuvenating zesty lemongrass clary sage scented candles. Not only do these amazing candles fill your home with an invigorating scent, they also may help you focus and stay alert. Hand poured in small batches and made with healthy paraben, petroleum and phthalate free fragrances of lemongrass and clary sage, this candle is sure to brighten up any room in your home!

Lemon Zest
By Catherine
I recently purchased the Lemongrass and Clary Sage Candle. I love this scent. I have it burning now as I am writing this review! It has a beautiful clean lemon fragrance which is strong but not at all overpowering. The scent reminds me of a basket of lemons sitting in my kitchen during the warm Spring and Summer months. I also get a slight hint of a grassy scent along with the lemon. This candle can be relaxing or used to feel energetic. It is a perfect pick me up scent for a hectic day! My candle arrived very quickly and was packaged very nicely. The glass jar is beautiful and elegant along with the pretty wood cover. This candle burns clean and has no black smoke or soot. I was greeted with a sweet thank you note along with some free tealight candle samples! I have ordered before from Pure Integrity and will continue to do so. They have many scents to choose from. The problem is I can never make up my mind on which to order! Thank you Pure Integrity for the great service!
Pure and Naturally Fresh Lilac Candles
Enjoy the amazing sweet and airy scent of pure and naturally fresh lilac fragrance with these delightful Lilac scented candles. Made from premium quality, natural soy wax, that burns with no-petro soot with a clean and even burn, these long-lasting candles are hand poured in small batches for maximum fragrance. The subtle yet pleasing aroma of these candles can fill any room in your home with an invigorating and refreshing scent perfect for springtime!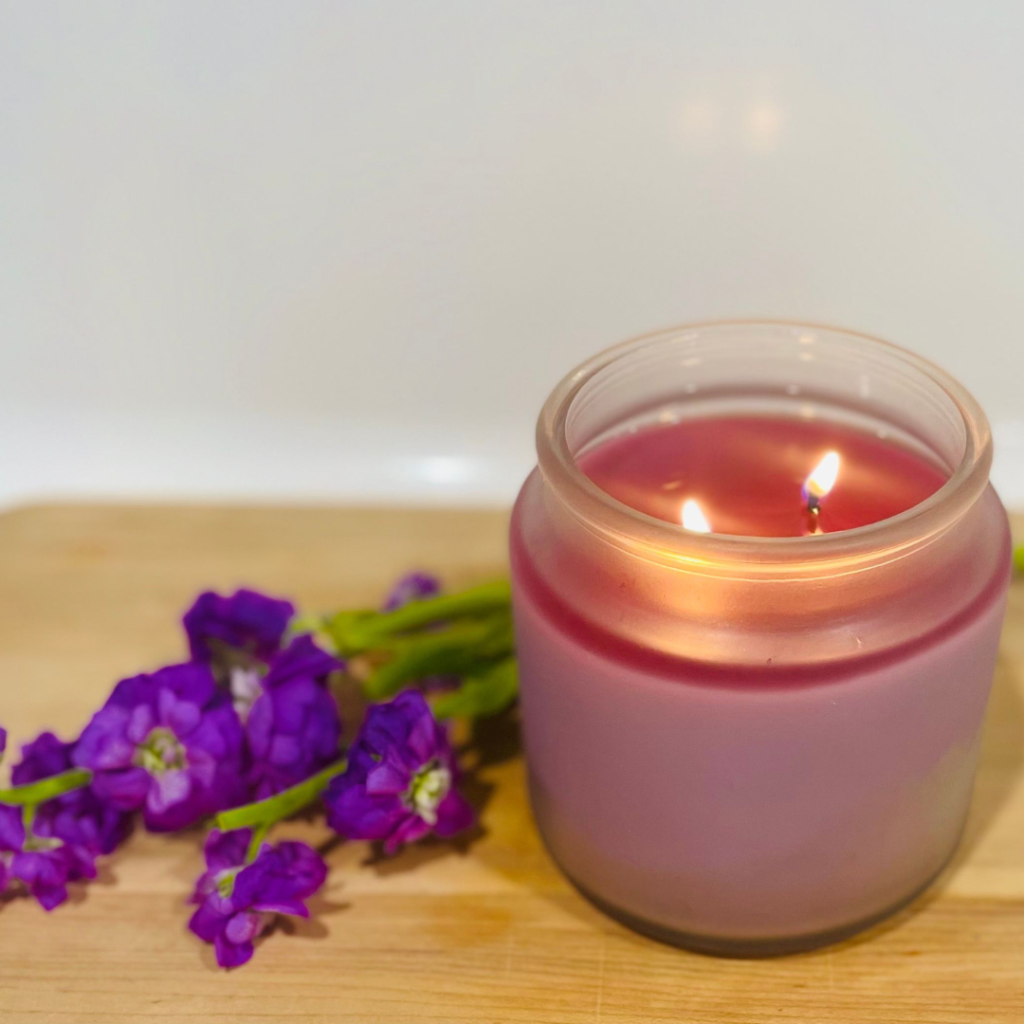 Lives up to the hype
By Roger Kasten Jr
I love the smell of Lilacs. I am constantly on the hunt for a really good Lilac candle. Unfortunately few of them ever live up to the hype. They smell great when you pick them up in the store but they have virtually no scent when they are being burned. I read such good reviews on the Pure Integrity Lilac Soy Candle that I thought I would give it a shot. When it arrived I picked it up and sniffed it at which point I realized it had an amazingly good scent. Even better, I was absolutely sold when I lit it and discovered it smell great while it was burning. I knew it wasn't just my opinion when my wife arrived home from work and the moment she walked in the door she commented on the wonderful Lilac scent. She too has be come a fan of Pure Integrity Soy Candles.
Bountifully Bright, Cleansing and Clean Lilly of the Valley Candles
For a more traditional take on your spring home décor, this captivating Lilly of the Valley scented candle is perfect. Boasting tonalities of dew-kissed spring lilies, this one-of-a-kind aroma will envelop your home with a distinctively sweet and inviting energy. Feel the warmth of restoration fill your space when you light up this classic floral!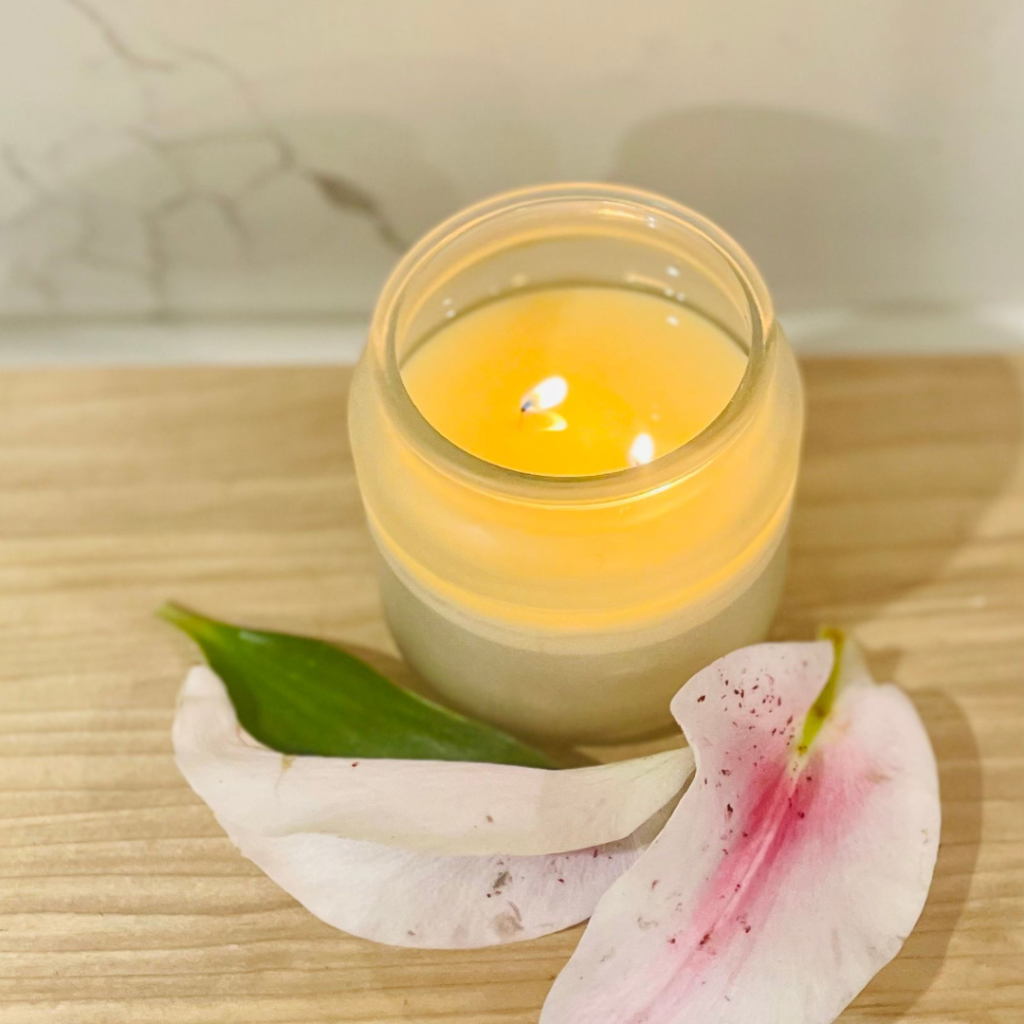 Lilly Candles
By Priya
All I can say is WOW!!!! I ordered the 10 oz. candle and I would rate it as superb strong. I burn this in our bedroom and it fills the entire bedroom. Even after we blow it out, the smell just lingers. I'm normally not a fan of "floral" scents because they give me a headache. Well, I can't say that anymore. This candle truly smells like a Lily of the Valley. This is such a perfect example of a "romantic" scent. The best part is, my husband (who is super picky), LOVES this scent also. We've had guests come over and everyone who smells it always ask me where they can purchase it….and I'm more than happy to tell them about this great company! We cannot get enough of this candle. I can't wait to place my next order. 🙂 God bless you guys!!
Check out our new fragrances that are getting a lot of great feedback – California Poppy, Warm Patchouli and White Sands Candles.
Enjoy the enchanting fragrances of nature in your home with this set of three beautiful candles featuring California Poppy, Warm Patchouli and White Sands. The California Poppy candle's soft heady scent exudes the beauty of spring around your home, wrapping it up in a satisfyingly uplifting atmosphere filled with lush and mesmerizing aromas. The captivating warm patchouli and heavenly white sand fragrances illicit an ambiance of tranquility and relaxation to make any room instantly more inviting.
About Author
---
---