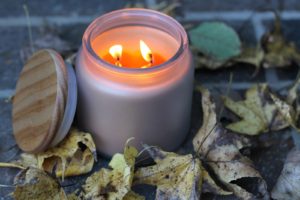 We think fall is the best time of the year. Those chilly early mornings are such a blessing after the unrelenting heat of summer!
At our house, changing out our candle scents comes as part of getting ready for cold weather. We pack up the summer-scented candles we've had out and put them in the attic. Next year they'll reappear when the temperature rises and we need something bright and tropical to cool us down.
Fall scents are the complete opposite. Fall scents are all about upping the coziness quotient in your home. Nothing goes better with hot chocolate and fuzzy blankets than the warm glow of a Pure Integrity soy candle!
Looking for a perfect fall soy candle? Here are our favorites:
Our fall scents are meant to transport you to your happiest cool-weather memories. These are best sellers that our customers love!
Maple – Straight from peaceful maple groves and intimate breakfast nooks, our maple candle smells just like the sweet maple syrup straight from Vermont.
Hot Mulled Cider – Come in from the cold to this warm, inviting aroma of simmering Macintosh apples spiced with cinnamon and clove.
Almond Vanilla – Like a taste of the Italian countryside, this roasted almond scent is sprinkled with a hint of vanilla for a luxurious, continental fragrance.
Pumpkin Creme – Our Pumpkin Creme fragrance is a rich, warm, creamy pumpkin fragrance with herbal notes of thyme and subtle spices.
Autumn Splendor – This classic fall scent is a combination of clove, peppermint and cinnamon – so wonderfully warm and inviting. A true reflection of the season of fall.
Hot Apple Strudel – A sweet combination of tart green apples baked with cinnamon and wrapped in delicious flaky pastry dough with hints of frosting, cinnamon, nutmeg and other spices. Very different from our other apple scents – One of our fall top sellers!
Oatmeal Cookie – Our Oatmeal Cookie fragrance is a scrumptious, mouthwatering delight. Ever so sweet, it smells exactly like fresh baked oatmeal cookies!!
Pumpkin Pie – Oven baked to perfection! Homemade pumpkin pie with a hint of cinnamon and spices. A masterfully combined warm, pleasing, absolutely delicious scent. One of our seasonal top sellers!
Want to know how to properly care for your Pure Integrity soy candle? Click here to go to our Candle Q&A page.
About Author
---
---