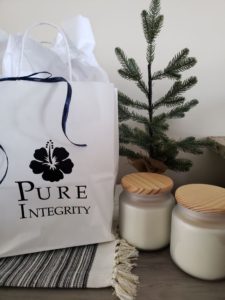 Finding the perfect holiday gifts for all the people on your list can be stressful! But it shouldn't have to be. This list of our top 5 best scented candles for holiday gifts is the perfect roadmap to wow-ing every person you have to buy for this year.
If there is one gift item that literally anyone on your list would love, it's a candle. Not only do you not have to worry about getting the right size or the right color, they're perfect for even the smallest apartment, and they're easy to pack into a suitcase.
All you have to do is choose the right scent.
To help you choose candle scents your friends and family will love, here are our five most popular holiday candle scents. These are big hits with both women and men of all ages, so you'll have something for everyone on your list.
Top 5 Best Scented Candles for Holiday Gifts
Vanilla – Who doesn't love the sweet, warm scent of vanilla? This scent spans the imagination – from grandma's kitchen to exotic orchids – vanilla is the scent that memories are made of. Click here to shop our Vanilla candles.
Victorian Christmas – Our Victorian Christmas is elegant and festive … and exclusive to Pure Integrity Soy Candles! It is an exquisite aroma of natural evergreen beautifully combined with an array of Christmas spices. An extraordinary holiday scent, Victorian Christmas is by far our top holiday seller. Click here to shop our Victorian Christmas candles.
Mistletoe – Our Mistletoe fragrance is woodsy and warm! This earthy pine scent is a perfect gift for the men on your list, as it adds a forest scent to any masculine space. Click here to shop our Mistletoe candles.
Oatmeal Cookie – Our Oatmeal Cookie fragrance is a scrumptious, mouthwatering delight. Ever so sweet, it smells exactly, EXACTLY like fresh baked oatmeal cookies!! Mmmmmm….. Click here to shop our Oatmeal Cookie candles.
Mulberry – Our Mulberry fragrance is a wonderfully juicy fragrance of plump ripe mulberries. This favorite English scent is fruity, bright and refreshing scent – great for holidays and year round! Click here to shop our Mulberry candles.
Remember you can also view our candles by scent strength. We rank our candles from 'light scented' to 'WOW', we have something for everyone.
Make a Gift-giving List and Check it Twice
To avoid last-minute trips to the mall, check to ensure your holiday gift-giving list is covered and that you have a present or two to spare. Pure Integrity candle gifts are the ideal items to have on hand for those planned and unplanned gift-giving situations.
This holiday, buy a candle gift set for:
Those hard-to-buy for men in the family who don't have closet space for another sweater or tie
Your co-workers and boss
Your neighbors
Your children's teacher, babysitter and coach
Your hairdresser
Your favorite cashier from the grocery store
Your mail carrier
The office Secret Santa exchange
Hostess gifts
Those just-in-case-you-need-a-gift situations
While you may be tempted to stock up on those candle gift baskets sold at department and big-box stores, remember that quality does count.
Pure Integrity's clean-burning candles are hand-poured with 100% soy wax. This means no chemicals and no black soot released into the air when the candles are lit.
What you and your gift recipients will enjoy are exceptionally strong-fragranced, long-lasting and natural candles. And with your holiday shopping done, you can breathe a sigh of relief.
Surprise some this Holiday Season!
Create Your Own Thoughtful Basket of Fragrant Bliss
Maybe consider making a gift basket for that someone special? Order our candles individually and create your own candle gifts set using baskets, boxes or other creative containers you have on hand.
Pair our Lemon Drop or Lemon Meringue candles with lemon-scented hand soap, lemon-colored dishtowels and a citrus zester
Team our Vanilla Cappuccino candles with freshly-ground coffee, a mug and a box of biscotti
Combine our Maple candle with yummy pancake mix and a bottle of maple syrup
With our Lavender candle, add a luxurious spa robe, an eye mask and lavender bubble bath
Don't know a person's preferred scent? No problem—we've got you covered with e-card gift certificates and your recipients can select their own favorite fragrances.
About Author
---
---