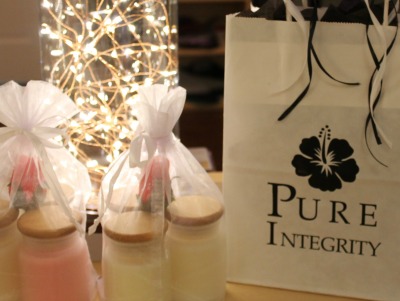 Holiday Candle Gift Sets
The Perfect Gift For Anyone
This holiday season, consider one of Pure Integrity Candle gift sets that will be enjoyed throughout the year. It is perfect for everyone on your shopping list and will not stretch your budget. Another plus? No batteries or electrical plugs required!
Pure Integrity candle gift sets are elegantly-wrapped gift sets or you can buy individually so you can create impressive gift baskets of your own.
Ready-to-go Candle Gift Set
It doesn't get much easier than our candle gift sets. First, select a 16 oz candle and a 5 oz candle in the scents of your choice (yes, you can mix and match) from over75 fragrances. Next, chose the color of the organza that your candle gift set will be wrapped with. Finally, pat yourself on the back for being such an efficient shopper and reward yourself with another cup of cocoa.